Commercial Pool Fencing Dilemmas Solved for Phoenix-Area Properties
In the many years that DCS Pool Barriers has been creating pool fencing and gate solutions, we have worked with countless commercial and residential clients throughout the greater Phoenix area. As we design, manufacture, and install new pool barriers for our clients, we strive to listen closely to each property owner's needs and take into account factors like the terrain and style of the surrounding property. Our primary goal is always to improve safety by minimizing the risk of unauthorized access to the pool area, and we ensure that all of our fences and gates comply with state and local regulations.
From simple and functional fences to decorative barriers that enhance the property's curb appeal, check out a few examples of the work we have done for our commercial clients:
The managers of Paradise RV Resort, a 55-and-up RV community with an active social scene, were facing a major problem: their pool fencing did not comply with county regulations. This lack of compliance exposed the community to heightened liability and possible fines from county inspectors. DCS Pool Barriers solved this dilemma by installing a new wrought iron pool fence. Due to its natural durability, wrought iron is one of the safest materials for fencing because it cannot be easily climbed or damaged. In addition, wrought iron has an elegant aesthetic and can be customized to suit any surroundings.
The General Manager of Paradise RV Resort was thrilled with the new pool fence, saying: "I didn't expect that simply replacing pool fencing would do so much to dress up the grounds, but I have been pleasantly surprised by how much the fence has beautified the area. Our new wrought iron fence has really added a rich appearance…I particularly like the very sharp-looking double pickets on the pony wall."
He also praised DCS Pool Barriers for the value we offered and our team's hard work. "The installers were efficient and great to work with," he said. "I was also pleased with the value. We were able to get virtually all new fencing for about the same price as a competitor that was going to reuse a good portion of the existing fence. Thanks to everyone at DCS Pool Barriers!"
The El Dorado Hotel in Scottsdale had undergone extensive renovations to maintain its historic charm while adding modern comforts. These renovations included consulting DCS Pool Barriers to remove an old pool fence and design, fabricate, and install a new one. However, we faced a challenge: the hotel was planning to host a wedding and had a tight deadline. Fortunately, our team is adept at working under a variety of circumstances, and we were able to promptly install beautiful, white pool fences and gates that perfectly matched the hotel's new style.
One of the designers who also worked on the hotel was impressed by the results we delivered, saying: "Your crew did an outstanding job removing the old and installing the new pool fence. There was a lot going on on-site and they completed the task in a timely manner and with zero disruption to the project. Thanks again and I will definitely be hiring DCS in the future!"
We-Ko-Pa Resort and Conference Center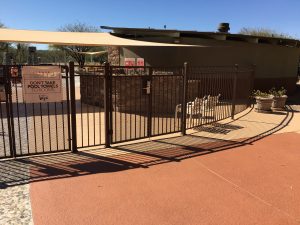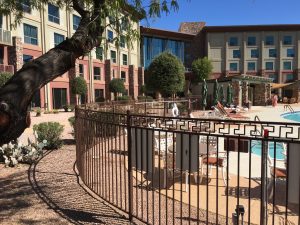 At We-Ko-Pa Resort and Conference Center, a tranquil desert oasis in far East Scottsdale, a rusty and deteriorating pool fence was detracting from the beauty of the property. In addition, the fence had become a safety hazard because its condition could allow it to be more easily breached.
After examining the property, the DCS Pool Barriers team determined that replacing We-Ko-Pa's 550 feet of pool fencing was the best solution. We created a sleek new fence with a geometric pattern that reflects the resort's contemporary aesthetic, as well as its unique Southwestern and Native American influences. With a safe and beautiful new pool fence, the managers of We-Ko-Pa Resort can enjoy peace of mind while continuing to deliver an excellent guest experience.
Scottsdale Villa Mirage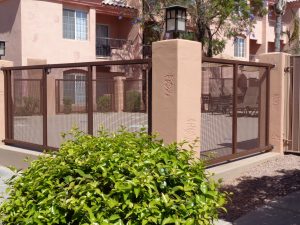 As a condo-style resort located in North Scottsdale, Scottsdale Villa Mirage was facing the same problem as We-Ko-Pa Resort: rusty and worn-out pool fencing that was threatening to impair guest safety and satisfaction. The DCS Pool Barriers team opted to remove the old fence and replace it with rock guard-style fencing, which features a mesh barrier set between wrought iron panels. The mesh allows unobstructed views between the pool area and the surrounding property, while the sturdy wrought iron enhances safety.
The new pool fence at Scottsdale Villa Mirage is galvanized, which means that DCS Pool Barriers added a zinc coating over the wrought iron as an extra layer of protection against rust. All of our galvanized products carry a ten-year warranty, meaning that clients who choose this option will be assured a positive return on investment.
How can a new wrought iron pool fence or gate improve safety and aesthetic appeal on your property? Find out with a free estimate from DCS Pool Barriers! Call us today at 623-825-7700.