What Arizona Landlords and Property Managers Need to Know about Community Pool Fencing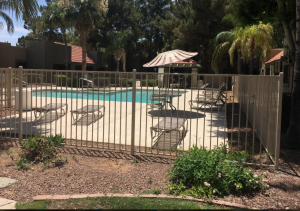 For landlords or property managers who oversee apartment complexes, HOA communities, and rental properties in Arizona, community pools can be a key amenity for attracting residents and guests. However, while pools can increase property value, they may also serve as a liability if not properly cared for and secured.
Pool fencing and gates are among the easiest and most effective ways to prevent accidental drowning and other poolside accidents, ensuring that your residents—particularly children—are safe around the water. In fact, many cities and municipalities throughout Arizona now impose their own requirements regarding fences and gates for residential, commercial, and community pools. For example, a recent mandate adopted by the Scottsdale City Council requires rental properties to install pool barriers and other safety features, making proper fencing and gates a necessary upgrade. Now that rental owners can be held liable for accidents caused by inadequate safety measures, it is crucial to invest in fencing that protects tenants—but does not detract from the look and flow of the backyard.
At DCS Pool Barriers, our wrought iron pool fencing and gates are both stylish and secure. Our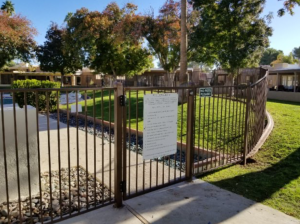 products can be customized to include a galvanized finish, complete with a 10-year warranty against rust, ensuring that the wrought iron will stand up to any poolside activity or natural elements.
Another popular option is our mesh fencing, which is completely removable and easy to roll up or store away when not in use. This makes it perfect for pool owners who might not need full protection year-round. Our wrought iron and mesh fences are designed from some of the strongest materials on the market and can be easily customized to fit the unique dimensions and needs of your property.
At DCS Pool Barriers, safety has always been our top priority. We are pleased to offer a wide variety of pool fences and gates designed to keep your loved ones safe around water. For a free consultation or to discuss some ideas for securing your pool area, contact us today!