How Hotels Can Improve Pool Safety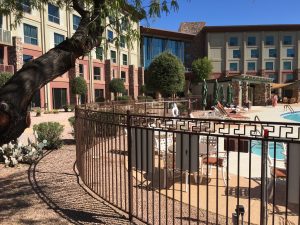 Pools are a popular amenity for hotels and resorts, and many throughout Arizona rely on pools and water features to entice visitors looking to relax or beat the heat. However, poolside accidents are common occurrences, and many hoteliers may find that pools can sometimes become a liability. Drowning is the fifth leading cause of unintentional injury or death in the United States, with approximately 10 deaths per day due to drowning, and the World Health Organization estimates there are 360,000 annual deaths worldwide due to drowning. Poolside safety is a primary concern for hoteliers, and with proper safety precautions you can ensure your property's pool areas are safe for everyone to enjoy.
Pool barriers are some of the most common and cost-effective ways to prevent poolside accidents, and with many cities and counties now imposing their own pool fencing requirements (in addition to Arizona state law), there has never been a better time to prioritize safe and well-designed pool fencing.
At DCS Pool Barriers, we help residential and commercial property owners protect and safeguard their pools. We offer customized, locally produced wrought iron fencing options that are manufactured from industry-leading materials that can easily stand up to daily use. Pool fences are a great way to limit access to pool areas, eliminating unauthorized use but allowing easy admittance for permitted guests. Beyond its durability and safety features, our wrought iron fencing can also be customized to match the unique design and aesthetic of your property, ensuring you can keep guests safe without detracting from the look and feel of the pool area. Along with constant adult supervision, durable and secure fencing can significantly reduce the risk of drowning and other poolside accidents.  
At DCS Pool Barriers, safety has always been our top priority. We offer a number of pool barriers and safety features to keep you and your loved ones safe around water. For a free consultation or to discuss some ideas for your next big project, contact us today!