New Rock Guard Pool Fencing Boosts Safety and Curb Appeal at Scottsdale Villa Mirage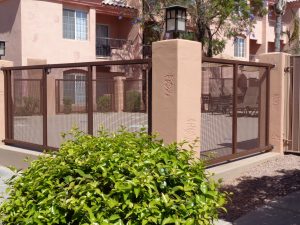 At Scottsdale Villa Mirage, a condo-style resort in North Scottsdale, worn-out pool fencing was impairing the property's curb appeal and posing a threat to the safety of guests. As a lush oasis set amongst the stunning Sonoran Desert, Scottsdale Villa Mirage needed a new pool fence that would accentuate the style of the property. In addition, the resort needed to keep the pool area secure in order to minimize liability and prevent the children of guests from accessing the pool without supervision. Because the existing fencing was rusted and weathered, it could be easily breached—exposing kids to the risk of drowning and the resort to the risk of lawsuits or sanctions for having a pool fence that was not up to code.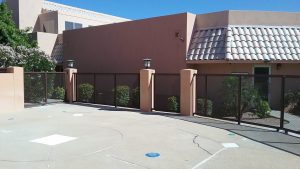 Scottsdale Villa Mirage contacted DCS Pool Barriers to find a solution for the deteriorating fencing. After assessing the resort's needs, our team removed the old barrier and replaced it with rock guard-style galvanized fencing. Rock guard is a type of mesh set inside wrought iron fence panels. The mesh is nearly transparent, creating a seamless barrier and unobstructed views between the pool area and the surrounding property. Because the mesh portions are anchored by sturdy wrought iron, the rock-guard fencing enhances safety by making it very difficult for children to enter the pool area without adult assistance. To ensure the property's beauty, the new pool fence has a rich brown hue that complements the color scheme of the surrounding buildings and contributes to the desert motif.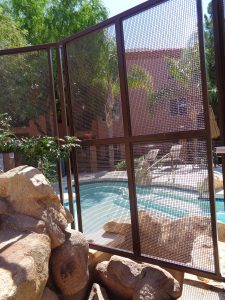 While wrought iron is naturally durable and long-lasting, Scottsdale Villa Mirage chose to further protect its investment by having the fence galvanized. This process coats the wrought iron with a protective layer of zinc in order to safeguard against rust and other types of decay. Galvanization is available for all wrought iron products from DCS Pool Barriers and carries a ten-year warranty.
Secured by a stylish new pool fence, Scottsdale Villa Mirage will enjoy reliable safety and improved curb appeal for years to come. With over a decade of experience of designing, manufacturing, and installing wrought iron pool fences and gates, DCS Pool Barriers can develop solutions to meet any needs. We work with both residential and commercial properties and are knowledgeable about the requirements for pool barriers under state and local law. Contact us today at 623-825-7700 to learn more or request a free estimate!