Why Wrought Iron is a Better Material for Pool Fencing than Aluminum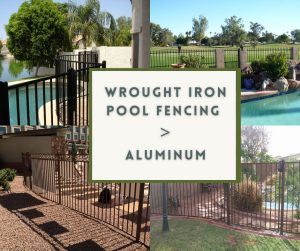 Pool fencing is an essential investment for homeowners and commercial property owners looking to make their pool areas safer and more secure. When considering the different materials available for pool fencing, two of the most common are wrought iron and aluminum. While aluminum may carry a lower upfront cost, wrought iron offers several compelling advantages that make it the better investment in the long run.
One of the main benefits of choosing wrought iron fencing over aluminum is enhanced durability and longevity. Wrought iron is a robust material, prized for its ability to stand up to harsh weather conditions year after year. Therefore, it will likely last longer than aluminum without needing to be repaired or replaced—which translates to a better return on investment. The strength of wrought iron also adds a layer of security to your pool area, thereby helping to prevent children and pets from wandering in without supervision.
Wrought iron fencing also has a timeless and elegant visual appeal, making it a compelling upgrade for owners who want additional security without compromising the aesthetic of their properties. At DCS Pool Barriers, we offer premium-quality wrought iron pool fences and gates in a wide variety of styles—ranging from sleek and understated to decorative and ornate—that may be customized to suit your unique preferences. All of our wrought iron products are locally made and expertly designed, with the ability to add galvanization to ensure that your fence will look beautiful and protect your family for years to come.
If you'd like more information on the best type of material for your pool fences and gates, the team at DCS Pool Barriers is happy to answer any questions you may have! Contact us today to request a free estimate.