Pool Season is Here—Remember the ABCDs of Drowning Prevention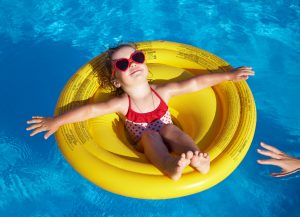 Spending time by the pool can be a great way to beat the heat, but care should be taken to prevent poolside accidents. Children and pets in particular are susceptible to drowning and other preventable pool mishaps, making protecting your loved ones around water paramount. The ABCDs of drowning prevention are a set of guidelines that can help you avoid water-related injuries and ensure that everyone can enjoy your pool safely.
A is for Adult Supervision
Drowning is one of the leading causes of death in children, and one that can be prevented by continuous and direct supervision by a designated adult. The supervising adult should not be distracted and should be familiar with the signs of drowning, as well as how to rescue someone who is struggling in the water.
B is for Barriers
Barriers, such as fences and gates, installed around your pool are an essential way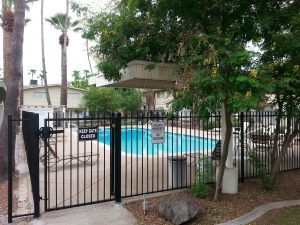 to secure the pool area and prevent children and pets from wandering in. While adult supervision is crucial, even the most vigilant parents might not be able to keep their eye on their kids at all times, and barriers provide an extra layer of protection. Pool fencing that includes self-closing or self-latching gates—as is required by Arizona state law—can further boost the security of the pool area, thereby keeping your loved ones safe.
C is for Classes
Education is important when it comes to accident prevention. Swimming and water safety lessons for kids and CPR and first aid classes for adults form a good foundation for remaining safe around water. If everyone knows what to do should the worst happen, you have the best possible chance of mitigating permanent damage.
D is for Devices
Rescue tools like life jackets and flotation devices are important to keep on hand, and if all else fails, they can make the difference in life-or-death situations. While adult supervision, barriers and knowledge of water safety can prevent the majority of accidents, ensuring you have a way to quickly provide aid in a drowning situation can make a dramatic difference.
At DCS Pool Barriers, safety has always been our top priority. We offer premium-quality wrought iron pool fences and gates to keep you and your loved ones safe around water, while also enhancing the beauty of your property.
For a free consultation, contact us today!
(Sources: https://www.safekidsclarkcounty.org/drowning-prevention-tips-the-abc--drsquos.html#:~:text=To%20keep%20your%20child%20safe,Barriers%2C%20Classes%2C%20and%20Devices.)