What is the Best Type of Pool Fencing for Commercial Properties?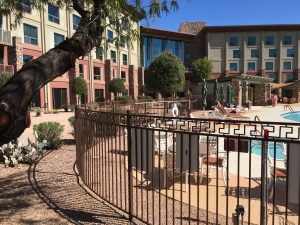 In the Phoenix area, it's common for apartment complexes, hotels, and other commercial properties to have swimming pools in order to provide their residents and guests with a relaxing place to cool down during the many months of warm weather. However, it's particularly important for commercial properties to take steps to ensure pool safety—with a high volume of visitors, there is a greater risk of drowning incidents, which can expose the property owners to significant liability. To avoid this, one of the most important precautions is to enclose the pool area with sturdy, legally compliant fences and gates.
As a property owner or manager seeking the best type of pool fencing for commercial properties, you may feel overwhelmed by the different options available. With popular types of materials including mesh, glass, and wood, each carries its own pros and cons—but when it comes to durability, cost effectiveness, style, and safety, wrought iron is hard to beat. Here are the top reasons why we recommend wrought iron pool barriers for residential and commercial properties alike:
Durability
Wrought iron is a naturally durable material that is resistant to deterioration and difficult to damage, breach, or climb, making it a formidable barrier to unauthorized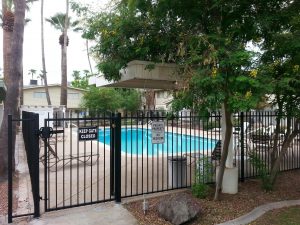 entry. Therefore, it reduces the chances of a child entering the pool area unattended and encountering the risk of drowning. By completely enclosing their pool areas with wrought iron fencing, ensuring that gates are self-closing and secured with self-latching mechanisms, and following all other pool safety best practices—such as prohibiting guests from letting their children swim without adult supervision—commercial properties can create a safe environment while minimizing their liability.
Strong return on investment
As with any business, commercial property owners must constantly pay attention to their bottom lines and ensure that any investments will pay off. Compared to alternative types of pool fencing, wrought iron pool barriers deliver a strong ROI due to their durability and tendency to last for many years without needing to be repaired or replaced. At DCS Pool Barriers, we can further extend the lifespan of our wrought iron products with galvanization, or the process of sealing the wrought iron with a protective zinc coating. All of our galvanized products carry a 10-year warranty against rust and other forms of deterioration.
Another key advantage of wrought iron is that it brings a timelessly elegant aesthetic to any property. It is also highly malleable, allowing wrought iron fences and other features to be easily customized to suit any style. At DCS Pool Barriers, we will work with you to create wrought iron pool fences and gates that reflect the style of your property, thereby enhancing curb appeal and ensuring that residents and guests will enjoy a beautiful view both within and outside of the pool area.
Is your commercial property in need of new or upgraded pool barriers? Contact us today to request a free estimate!