4 Pool Area Design Ideas to Transform Your Backyard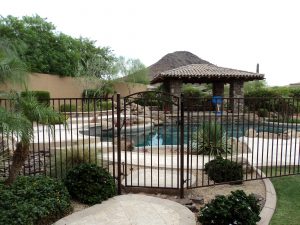 A backyard swimming pool offers a great way to cool down on a hot day, get some exercise, and relax with friends and family. But while you may consider your pool to be the highlight of your backyard, the space around it is just as important—if not more. From the fencing that surrounds your pool to the décor you choose, a well-designed pool area can help ensure pool safety and transform your yard into a luxurious oasis. Here are four pool area design ideas to inspire you:
Install wrought iron fencing. One of the biggest risks that pool owners face is that children or pets will wander into the pool area, where they could potentially fall into the pool and drown. To reduce this risk, it's crucial to completely enclose the pool area with fencing that is at least five feet high and free of any gaps through which an object four or more inches in diameter could pass (as required by Arizona law). At DCS Pool Barriers, we recommend wrought iron as a top choice for pool fencing. Compared to other materials, wrought iron is highly durable, making it resistant to being damaged or breached. It also has a naturally elegant appearance and can be customized to suit any style.
Add comfortable seating. The right seating options in your pool area can not only ensure comfort when lounging poolside, but can also give the space a luxurious, resort-like appearance. Think beyond traditional deck chairs and consider options such as chaise lounges equipped with colorful, water-resistant cushions, outdoor couches, or even a daybed with an adjustable canopy that can be used to shield you from the sun.
Install a decorative gate. In addition to fencing, proper pool gates are among the most effective ways to prevent drowning. Gates should be self-closing and self-latching, open outwards from the pool, and have a latching mechanism located at least 54 inches above the ground. At DCS Pool Barriers, we offer a vast selection of gates to help secure your pool area while enhancing the style of your backyard. For instance, some of our most eye-catching options include our Deco Series gates—which are made of stylish composite wood and elegant wrought iron—and our Decorative gates, which encompass a range of wrought iron designs.
Consider adding fire features. While fire and water may seem to be contrasting elements, they may be beautifully combined in the pool area. Many homeowners install fireplaces or fire pits to generate warmth on a chilly night and create a space around which people can gather and relax, but other options—including fire bowls, fire columns, and Tiki-style torches—are a great way to add visual intrigue to your pool area.
Whether you're designing a brand-new pool area or are looking for ways to revitalize your existing space, the right fences and gates are some of the most important elements for both safety and style. With over 15 years of experience designing, manufacturing, and installing premium-quality wrought iron pool barriers throughout the greater Phoenix area, our team can recommend the best options to suit your needs. Call us today at 623-825-7700 for a free estimate!