What are the Most Effective Types of Pool Barriers?
For both residential and commercial properties, the fences and gates surrounding the pool area serve a variety of key functions: they complement the style of the surrounding property, ensure compliance with state law, and most importantly, they enhance safety by preventing children from entering the pool area without supervision—thereby reducing the property owner's liability. Therefore, when installing new pool barriers, it's crucial to do your research and choose products that will effectively fulfill all of these functions for years to come. Here is a brief overview of some of the most popular types of pool barriers:
Wrought iron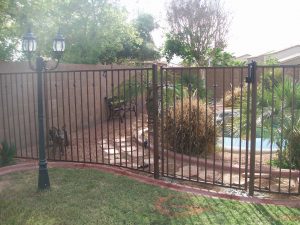 At DCS Pool Barriers, there are several reasons why we believe that wrought iron is the most effective type of pool barrier. First, wrought iron is difficult to climb and naturally durable, making it resistant to being damaged or breached. This durability also means that it should last for many years without needing to be repaired or replaced—which translates to a strong return on investment. In addition, wrought iron has a timelessly elegant aesthetic and can easily be customized to suit properties of any style, ranging from sleek and contemporary to decorative and ornate or anything in between.
Mesh
Mesh fencing is a convenient option for improving pool safety without installing permanent pool barriers. Mesh tends to be less expensive than alternative materials, offers unobstructed views of the pool area and surrounding landscape due to its transparent appearance, and can be easily removed and stored away when a pool barrier is no longer needed. However, since mesh is less durable than wrought iron, these types of pool barriers may not last as long and may require more maintenance.
If you think removable mesh pool fencing may be right for your needs, DCS Pool Barriers strives to provide the highest quality option. The mesh material we use is virtually untearable, and the poles are made from aircraft-grade aluminum. Our fencing is equipped with self-closing, self-latching gates.
Wooden
While wooden fences have a classic, visually pleasing appearance, they are not the best choice around the pool area—particularly in Arizona. Wood is prone to deterioration when it comes into contact with water, and it may expand and contract when faced with temperature extremes. As a result, wooden fences tend to require frequent repairs, making them a costly option in the long run. When it comes to pool barriers, another problem is that wooden fences lack visibility, which could make it difficult to know if a child or pet has entered the pool area undetected.
Glass
Another popular option is glass-paneled pool fencing. While this durable type of glass is visually striking, it carries a hefty price tag and a heavy maintenance burden—in fact, keeping the glass panels looking their best may require daily cleaning. Furthermore, glass offers minimal privacy, so it is not recommended if your neighbors have a view of your pool area.
If you are looking for pool barriers that combine style, strength, safety, and cost-effectiveness, it's hard to top the advantages that wrought iron offers. With over 15 years of experience designing, manufacturing, and installing wrought iron pool fences and gates throughout the greater Phoenix area, the team at DCS Pool Barriers can guide you in selecting the best products for your pool area. Call us at 623-825-7700 for a free estimate!