May is National Water Safety Month—Here are Some Important Pool Safety Tips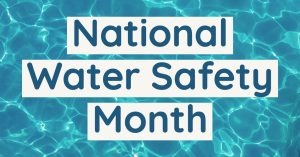 While it may technically still be springtime, the weather is heating up in the Phoenix area—which means that pool season is just around the corner. To help get everyone thinking about pool safety, May has been designated as National Water Safety Month. Coordinated by the Pool & Hot Tub Alliance with support from the American Red Cross, National Recreation and Park Association, and World Waterpark Association, this annual event aims to spread public awareness about the risk of drowning and how to prevent it through safer water practices.
At DCS Pool Barriers, encouraging pool safety year-round is an important part of our mission. In honor of National Water Safety Month, we've compiled a few tips to help you have a safe and enjoyable swimming season:
Ensure that there is constant, attentive adult supervision whenever children are near the water. When it comes to pool safety, the most important precaution is to make sure that a responsible adult is watching the kids at all times. This means that they should be sober, not distracted, able to recognize the signs that a swimmer is in distress, and ideally sitting within arm's reach of the children they are supervising.
Install proper pool barriers in order to prevent kids from wandering into the pool area without supervision. In accordance with Arizona law, pool fences should be at least five feet tall, completely enclose the pool area, and should be free of any openings through which an object four or more inches in diameter could pass. Pool gates should be self-closing and self-latching, with the latching mechanism located at least 54 inches above the ground. Never leave gates propped open. In addition to fences and gates, consider equipping any doors and windows that open directly to the pool area with alarms that will sound if someone tries to exit without disabling the alarm.
Stock your pool area with safety essentials, including a landline phone, first-aid kit, CPR instructions, and rescue devices. Meanwhile, remove any toys, rafts, or other objects that could draw a child into the pool area when the pool is not in use.
If a child is ever missing, check the pool area immediately. Keep in mind that when it comes to drowning, every second counts—tragically, even a brief delay could lead to death or permanent brain damage.
At DCS Pool Barriers, we believe that one of the most effective ways to ensure pool safety is to secure your pool with wrought iron fences and gates. With its natural durability, wrought iron creates a formidable barrier that prevents children and pets from entering the pool area unsupervised. Call us today at 623-825-7700 to request a free estimate!