How to Choose a Pool Fencing Contractor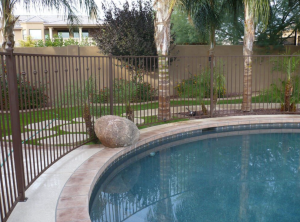 As one of the most effective ways to prevent drowning, a pool fence plays a vital role in protecting your loved ones—particularly kids and pets—from potential tragedy. In order to ensure that pool fences fulfill their role of enhancing safety around the pool area, they should be manufactured and installed by qualified professionals. Therefore, if you are in need of a new pool fence, it is crucial to do your research and make sure that you are choosing a reputable pool fencing contractor.
As you consider potential pool fencing companies to work with, here are a few factors to take into account:
Experience
As a general rule, companies that have been in business for several years tend to be more reputable and experienced than their newer competitors. Experience is particularly important when seeking services related to safety, such as installing pool fencing. At DCS Pool Barriers, we are proud to boast over 15 years of experience as a licensed, bonded, and insured company that designs, manufactures, and installs pool barriers for commercial and residential properties across the Phoenix area. Over our many years in business, we have accumulated extensive expertise that allows us to offer the right pool barrier solutions for any property.
Consumer ratings
When vetting potential pool fencing contractors, consumer rating boards and websites provide plenty of information about how the individual or company functions. With access to detailed customer reviews, complaints, and other data, it's easy to learn how the customer relationships are handled. Many of the consumer ratings boards even grant grades to local companies contingent upon their service histories, years in business, and product reviews.
Customer reviews
Another way to locate the best pool fencing contractors in your area is to check customer reviews on third-party websites such as Yelp or Google Reviews. Both of these sites offer a way to understand firsthand experiences with a company and to determine whether customers are frequently satisfied with the quality of work performed.
Information available on their website
As with businesses in many other industries, experienced pool fencing companies often seek to provide high-value industry information to their customer base. For instance, you may want to check their blog and social media presence to see if they are active and engaged, offering useful content regarding pool barriers, safety tips, and other relevant information.
If you're still looking for the right pool fencing contractor, the DCS Pool Barriers team is happy to answer any questions you might have! Call us today at 623-825-7700 to get in touch.