4 Questions to Ask Yourself When Choosing Pool Barriers for Your Property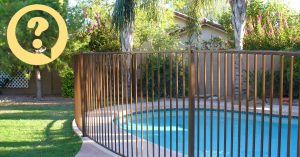 As with most other home improvements, installing new pool barriers is a significant investment that can affect your enjoyment of your property for years to come. To ensure optimal results, you'll want to take the time to research the options available for different types of pool fences and pool fencing contractors in your area.
At DCS Pool Barriers, we have been designing, manufacturing, and installing custom wrought iron pool fences and gates for both residential and commercial properties across the greater Phoenix area for over 15 years. Here are a few questions that we recommend asking yourself to help guide you when selecting pool barriers for your property:
What are your top needs and priorities for your new pool barriers? Pool fences and gates serve a variety of important functions: they can enhance privacy, aesthetic appeal, and most importantly, the safety of your pool area. Considering which of these are most critical for your property can help you choose the best material, style, and size for your pool barriers.
What is the style of your property? The right pool fences and gates can be a beautiful addition to your property that accentuates your pool area and other architectural features. Before selecting pool barriers, consider whether the style of your property is traditional, contemporary, Southwestern, mid-century modern, or anything in between. At DCS Pool Barriers, wrought iron is our preferred material for pool fences. In addition to being much more durable—and therefore safer—than other types of materials, wrought iron is very malleable, allowing it to be customized to suit a wide variety of aesthetics.
Are there any local laws in your area or HOA regulations governing pool barriers? The State of Arizona imposes certain requirements on pool barriers at residential and commercial properties. For example, fences must be at least five feet high, situated at least 20 inches from the water's edge, and free of any gaps large enough for an object four inches or more in diameter to pass, while gates must open outward from the pool, be self-closing, and have self-latching mechanisms at least 54 inches above the ground. In addition, cities and towns within the state may impose their own, more restrictive requirements. And if you live in a community governed by an HOA and your pool fence will be visible from common areas, it may need to comply with certain design regulations. Being aware of these restrictions can help guide you in choosing the right pool barriers.
What is your budget? As with any other investment that you make in your property, knowing your budget at the outset—and working with your pool fencing contractor to explore the best options within that budget—will help ensure that you are satisfied with your new purchase. At DCS Pool Barriers, we offer solutions for a range of price points—but all of our products feature premium-grade steel and the highest quality components, ensuring that your pool fences and gates will deliver a strong return on investment no matter your budget.
If you are planning to add new pool fences and gates to your property, the experienced DCS Pool Barriers team is here to help guide you through the process and answer any questions you may have. We will work with you to create a product that suits your needs and style, while properly securing your pool area for maximum safety. Contact us today to request a free estimate!