How Commercial Properties Can Enhance Their Pool Areas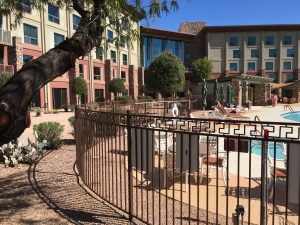 For a commercial property, such as a hotel, apartment complex, or HOA-operated condo community, a beautiful pool area can help attract and retain guests and residents. A hugely popular amenity, particularly here in the Valley of the Sun, gorgeous swimming pools can provide a relaxing oasis from the desert heat. Therefore, owners and managers can add to a property's value by taking steps to enhance both the safety and style of the pool area.
Safety and Security
First and foremost, one of the most important factors about any pool is that it is safe and secure in order to reduce the risk of accidental drownings. Since commercial properties often have high foot traffic, a sturdy and well-maintained pool barrier is key. 
In Arizona, there are several requirements for pool safety: any pool must be completely enclosed by a barrier (like a wall or a fence) that is at minimum five feet tall; the barrier must not have any openings larger than four inches wide; it must have gates that open outward, away from the pool; it must have self-closing and self-latching mechanisms that are at least 54 inches from the ground; the barrier must be at least 20 inches from the water's perimeter; and the barrier must not have any exterior hand or footholds. 
Style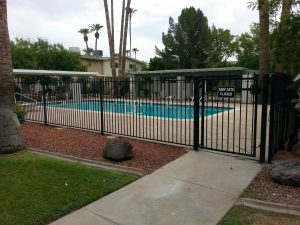 At DCS Pool Barriers, wrought iron is by far our favorite material for pool fences and gates. As a naturally durable material that is difficult to bend, break, or damage, wrought iron serves as a strong barrier for preventing children and trespassers from accessing the pool area. Wrought iron is also highly malleable, allowing it to be customized to suit a variety of decorative styles that can enhance the visual aesthetics of any commercial pool and its surrounding property.

With over 15 years of experience designing, manufacturing, and installing wrought iron pool barriers for commercial and residential properties, the team at DCS Pool Barriers will ensure that the finished product complements your property's unique style while keeping your guests, tenants, and visitors safe—and your liability at a minimum. Call us today at 623-825-7700 or visit https://dcspoolbarriers.com/contact-us/ to request a free estimate!