Are Your Pool Fences and Gates in Need of Repair?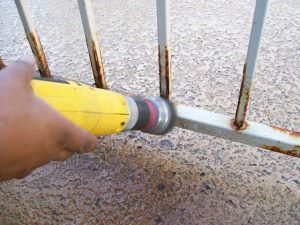 The cooler months of our short Arizona winter are the perfect time to tend to outdoor maintenance tasks, like ensuring that your pool fences and gates are in prime condition for the upcoming swimming season. If your pool fences are rusted or worn down, or if the gates are not closing and latching properly, they may not be effective at keeping children, pets, and other unwanted guests out of the pool area. Therefore, periodically checking the condition of your pool barriers and making any repairs or replacements needed is essential to ensuring pool safety year-round.
With more than 15 years of experience designing, manufacturing, installing, and repairing pool fences and gates throughout the greater Phoenix area, the team at DCS Pool Barriers has extensive knowledge of what is required to maintain the security of your pool area. When inspecting the condition of your pool fences and gates, we recommend taking a look at the following:
Hinges and Latches
A fence only serves as an effective pool barrier if it has a gate with a properly functioning latch. The hinge mechanisms on gates can wear down and rust over time, which can prevent the gate from closing securely. In Arizona, pool gates are required to have self-latching mechanisms—so if yours is failing to open or close properly, you could face penalties in addition to the heightened risk of drowning.
Fence Rust
Fence pickets are prone to rusting over the years as they come into contact with rain, sprinkler water, and other elements. When inspecting your pool area, check for any rust or rot on your fence, as the presence of either can signify a weakening fence that could potentially be breached.
Discoloration
As with rust, fading paint and the presence of discoloration on a fence can signify that your pool barriers are in need of some care. While chipping paint doesn't necessarily signal a threat to pool safety, discolored fences can quickly become an eyesore in your backyard.
Are your pool barriers in need of repair? Our team can help resolve any issues and restore your fences and gates to a like-new condition. We'll also verify that all components are properly functioning and compliant with local regulations so you can rest easy as pool season approaches. Call us today at 623-825-7700 for a free estimate!