What Landlords Should Know About Pool Safety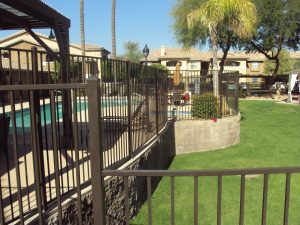 For landlords who own and/or manage properties that have pools onsite, safety is always a key concern. While a beautiful pool can be enticing to potential tenants, it can also serve as a liability for owners due to the risk of drowning and other water-related injuries. Here are a few important considerations that landlords should keep in mind when it comes to pool safety:
Pool Fences and Gates
Proper pool barriers are the most effective means of controlling who is able to enter the pool area. Due to their importance, many cities and states—including Phoenix and other municipalities throughout Arizona—have requirements for pool fences and gates on residential and commercial properties. For example, pools generally must be enclosed by a sturdy barrier that reaches at least five feet high in order to deter unwanted guests and children from entering the pool area without supervision. As a landlord, verify that your pool barriers are compliant with the regulations in your area, and check them regularly to ensure that they are sturdy and that all components, such as gate latching mechanisms, are functioning properly.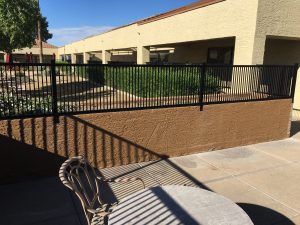 Water Cleanliness
To ensure that your pool environment is safe and sanitized, it's important to stay on top of pool maintenance tasks such as checking water chemistry levels, removing dirt and debris by sweeping and vacuuming, emptying pool filters and skimmer baskets and performing other miscellaneous items to keep the pool primed and ready for swimming at any time.
Safety Devices
Equip the pool area(s) on your property with essential safety devices, such as a first-aid kit, life ring, CPR instructions, and a landline phone so that anyone can call 911 in the event of an emergency.

At DCS Pool Barriers, we design, manufacture, and install premium-quality wrought iron pool fences and gates for homes and commercial properties throughout the greater Phoenix area. Our experienced team is well-versed in state and local ordinances governing pool barriers, and we will ensure that your pool is properly secured with durable, long-lasting fences and gates to help enhance pool safety on your property. Call us today at 623-825-7700 for a free estimate!