Improving Hotel and Resort Pool Safety with Wrought Iron Fences and Gates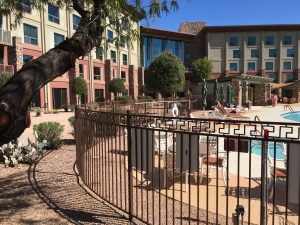 At DCS Pool Barriers, enhancing safety around the pool area is always our primary consideration. Beyond the residential market, we carry our dedication to safety and security to the commercial realm. Our experienced team routinely works with commercial properties, including hotels and resorts throughout the greater Phoenix area, to design, manufacture, and install wrought iron pool fences and gates designed to reduce the risk of drowning by keeping kids from entering the pool area without supervision.
When it comes to pool barriers, we believe that wrought iron is the best and safest type of material. Wrought iron is naturally durable, long-lasting, and difficult to climb or breach, making it a formidable barrier against unauthorized entry into the pool area. In addition to using the highest-quality materials in manufacturing our wrought iron fences and gates, the DCS Pool Barriers team is knowledgeable about state and local regulations governing pool barriers on commercial properties. We will ensure that your new pool barriers are legally compliant and designed to prevent children or trespassers from wandering into your hotel's pool area.
For commercial properties in particular, pool safety is paramount, but it's not the only consideration—it's also important to ensure that the pool barriers match the design of the property and have an appearance that is appealing to guests. Guests want to know that they are safe, but they don't want to feel like they are locked in or out of a space. Fortunately, wrought iron is not only strong, but also has a stylish look and can be easily customized to suit the aesthetic of any property.
When creating pool fences and gates for any hotel or other commercial property, our team works closely with the property owners and managers to ensure that the end product enhances the property's style, complies with all applicable regulations, and offers the desired level of security. All of our wrought iron products are available with a variety of coating options, including single-powder coat, double-powder coat, and galvanized powder coat, which carries a 10-year warranty against rust to deliver long-lasting value. Upon installation, our trained and licensed professionals will verify that all components are working properly and that your new pool barriers exceed your expectations.
Second to nonstop adult supervision, having proper pool barriers in place is the best way to reduce the risk of drowning. Is your hotel's pool area properly secured? Contact DCS Pool Barriers today at 623-825-7700 to request a free estimate!