Pool Safety Tips for Drowning Impact Awareness Month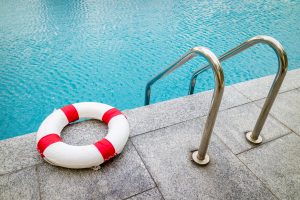 August is Drowning Impact Awareness Month, and as summer temperatures soar and your pool experiences heavy use, we thought we'd compile some helpful safety tips to ensure that your summer is free of incidents.
Whether your pool is used for exercise, games, or relaxation, here are a few simple guidelines to help ensure a safe swim session each and every time: 
Adult Supervision
Nonstop adult supervision whenever children are near the water is the best way to reduce the risk of drowning. If kids will be enjoying your pool, be sure to designate at least one responsible adult to keep an eye on them at all times. This individual should be a capable swimmer in case they need to jump into the water to rescue a struggling child, and should avoid any distractions when they are watching the kids.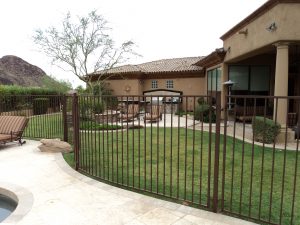 Fencing
Pool fences and gates are among the best protective steps that pool owners can take to create a secure pool environment. In fact, the State of Arizona has certain requirements for pool barriers at commercial properties with pools and homes where children live. Specifically, pool fences must be at least five feet high, completely surround the pool area, and be free of any openings that could allow the passage of an object four inches or more in diameter. Pool gates must be self-closing and self-latching, with the latching mechanisms located at least 54 inches above the ground. 
At DCS Pool Barriers, we recommend wrought iron fences and gates as the most effective way to secure your pool area. Wrought iron is more durable than alternative types of materials, making it difficult to climb, breach, or damage. As an added benefit, wrought iron has a naturally elegant look and can easily be customized to suit the style of any property! 
Learn CPR
Learning CPR is critical and one of the best ways to prevent a death from drowning. Consider becoming CPR-certified in order to be prepared in case of an emergency.
Swim Lessons
Another essential way to improve safety around the pool is to ensure that all members of the family know how to swim—starting with babies as young as one year old.
Sun Safety
Taking precautions to protect yourself against the sun is also crucial when enjoying the pool. Be sure to provide shade and plenty of sunscreen for guests. Additionally, help everyone stay hydrated and healthy by offering water, snacks, and beverages that contain electrolytes—particularly if you'll also be serving alcohol. 
In honor of Drowning Impact Awareness Month, now is a great time to review pool safety best practices and ensure that your pool area is secure. If you are in need of new pool fences or gates, contact the pros at DCS Pool Barriers! With more than 16 years of experience designing, manufacturing, and installing wrought iron pool fences and gates for residential and commercial properties throughout the greater Phoenix area, we will ensure that your new pool barriers are safe, durable, and customized to enhance the style of your property. Call us today at 623-825-7700 for a free estimate!