DCS Pool Barriers Installs New Wrought Iron Fencing to Secure Community Pool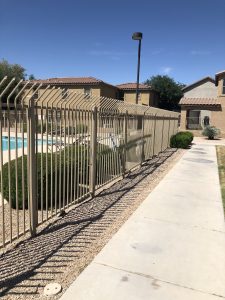 The Phoenix-area housing community of Indigo Trails was facing a common dilemma: people were scaling the fence to use the neighborhood pool without permission. In addition to being a nuisance for residents and subjecting the pool area to possible vandalism or theft, the continuous trespassing left the community vulnerable to liability in the event that someone were to drown in the pool. Therefore, Indigo Trails urgently needed new pool fences and gates that would provide better security than the existing barriers, which were starting to rust and deteriorate. 
When the Indigo Trails HOA consulted DCS Pool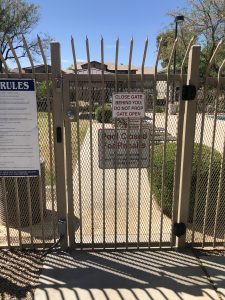 Barriers about the community's pool fencing problems, we began developing a solution that would provide better security while also improving the pool area's aesthetic appeal. Based on careful consideration of the community's needs and style, we fabricated a custom wrought iron security fence. The fence features curved pickets at the top, which make it virtually impossible to climb, as well as expanded metal between the pickets in some places in order to minimize the chances that an intruder could breach the fence. Wrought iron is naturally durable and resistant to being climbed, damaged, or broken, but with the additional security measures, the Indigo Trails community's new pool fence is virtually impenetrable.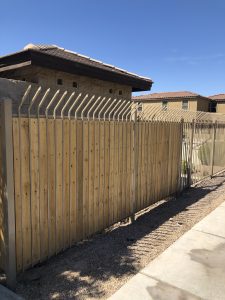 In addition to enhancing security, the new fence ensures that Indigo Trails will not have to worry about rust for years to come. We took the extra step of galvanizing the wrought iron, which refers to the process of sealing it with a protective zinc coating to safeguard against rust and other forms of deterioration—even when the fence is faced with precipitation, strong sunlight, and other harsh conditions. All galvanized wrought iron products from DCS Pool Barriers carry a ten-year warranty, so the Indigo Trails homeowners can be assured that their investment will deliver lasting value. 
Another way that the new fencing enhances the community's pool area is by hiding unsightly pool equipment. To do this, we added wooden slats between the pickets of the wrought iron fence and gate in certain areas—thereby creating a seamless appearance that improves the overall beauty of the pool area.
Are your community's pool fences and gates successfully safeguarding the pool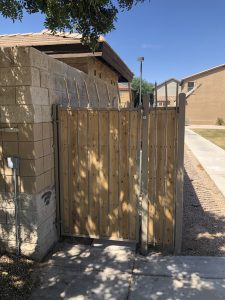 area from unauthorized entry? Contact the professionals at DCS Pool Barriers today at 623-825-7700 to find out!