5 Pet Pool Safety Tips for Keeping Furry Friends Safe around the Water
Pets are a beloved part of the family, yet the importance of protecting their safety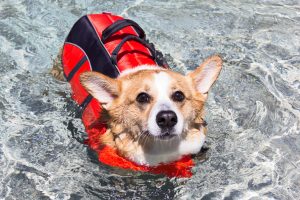 around the pool area is sometimes underestimated. Many pet owners assume that dogs in particular are naturally capable swimmers, when in reality, the water may be a source of fear and danger for them. Since dogs tend to spend more time in the backyard unsupervised than their human counterparts, they sadly face a heightened risk of wandering into the pool area and drowning.
Want to enjoy some time by the pool with your dog? Here are 5 critical pet pool safety tips to keep in mind:
Check with your vet before bringing your pet poolside. No matter your dog's age or breed, certain health conditions—such as arthritis, poor eyesight, and seizures—can impact their ability to swim safely. Prior to exposing your pet to the water, ensure that they are physically up to the challenge of swimming.

Ensure that your pool area is completely enclosed with sturdy, properly functioning pool fences and gates. By helping to prevent pets and children from entering the pool area without supervision, proper pool barriers are among the most effective ways to reduce the risk of drowning. At DCS Pool Barriers, we recommend wrought iron as the best material for pool fences and gates. Wrought iron is highly durable, which reduces its chances of deteriorating or being broken or breached. As a bonus, wrought iron has a beautiful aesthetic and can easily be customized to accentuate the style of any property! Regardless of the type of pool barriers you choose, always ensure that gates can latch properly and are never left propped open.

Teach your furry friend how to swim. If you're not sure how to do this, many dog trainers offer swimming lessons. The training should also teach your pup how to exit the pool when they want to get out. It may be helpful to place a noticeable object, such as a flag or large plant, near the pool stairs so that your pet can easily identify the exit. Proper training will help ensure that if your dog ever wanders into the pool without supervision, they will be equipped with the knowledge needed to stay afloat and extricate themselves from a dangerous situation.

Invest in a life jacket. According to the American Kennel Club, life jackets are a must when dogs are learning how to swim. Canine life jackets are available in adorable, eye-catching patterns, which will help your pet stay visible and buoyant in the water.

Learn CPR for dogs. Even with proper training and precautions, dogs can have a mind of their own and may wander into the pool unsupervised. Knowing CPR may be the key to saving their lives in the worst case scenario. Check with your local rescue organizations to see if they offer CPR classes for canines.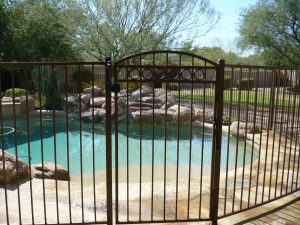 When it comes to pets and pool safety, remember that the same rule applies as with kids—there is no substitute for constant adult supervision! However, following these five pool safety tips for pets will help to ensure safe swimming for the whole family.
In need of new fences or gates to secure your pool area? The professionals at DCS Pool Barriers have been designing, manufacturing, and installing premium-quality wrought iron pool barriers throughout the greater Phoenix area for over 16 years. With a mission to help our customers ensure that all of their loved ones are safe around the pool, we will verify that the finished product is functioning properly, complies with state and local laws, and enhances the style of your property. Call us today at 623-825-7700 for a free estimate!
(Sources: https://dogtime.com/how-to/51449-5-ways-keep-puppy-safe-around-pool, https://www.petmd.com/dog/slideshows/care/pool-safety-tips-for-dogs).