Preventing Child Drownings with Wrought Iron Pool Barriers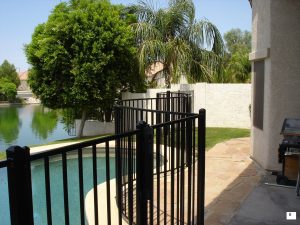 In Arizona during the month of August, late-summer heat and the distractions of back-to-school season combine to create a tragic statistic: more child drownings than during any other month. As a result, August has been designated as Drowning Impact Awareness Month, which began with Phoenix Children's Hospital in 2004 and has grown into the largest collaborative water safety effort in Arizona. Drowning Impact Awareness Month seeks to bring attention to the high rate of child drownings and the fact that these accidents may be prevented through proper safety measures. Specifically, the Drowning Prevention Coalition of Arizona has identified the "ABCs of water safety": adult supervision, barriers, and Coast Guard-approved lifejackets and classes (including both swimming lessons and CPR classes).
While there is never a substitute for constant, responsible adult supervision whenever children are around water, proper pool fences and gates can help prevent children from accessing the pool area without supervision—thereby reducing the risk of drowning. Arizona law recognizes the importance of pool barriers by imposing certain requirements for residential and commercial properties where children may be present. For example, fences must completely enclose the pool area, be at least five feet high and must be free of any openings through which an object four inches or more in diameter could pass. Pool gates must be self-closing, open outward from the pool area, and have self-latching mechanisms situated at least 54 inches above the ground. These requirements are designed to ensure that young children cannot slip between the pickets of a fence, open pool gates without assistance from an adult, or enter the pool area through a gate that has failed to close properly.
At DCS Pool Barriers, we recommend wrought iron as a preferred material for pool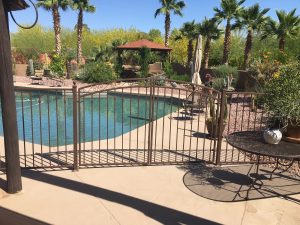 fences and gates. Pool barriers are only effective if they cannot be easily breached by curious children. Wrought iron offers the durability needed to create a formidable barrier, as it tends to be stronger than alternative fencing materials like wood or aluminum. For any of our wrought iron products, we offer the option of galvanization, which seals the wrought iron with a zinc coating to protect against rust—thereby ensuring that the fence or gate will remain in sturdy condition for years to come. All of our galvanized wrought iron products come with a 10-year warranty. As a bonus, wrought iron has a naturally beautiful style that will complement any property!
While wrought iron pool barriers are a highly effective way to improve pool safety, it's important to take several other precautionary measures. For example, pool areas should be equipped with life-saving devices, a phone should always be nearby for calling 911 in the event of an emergency, and children should be taught how to swim from an early age. And of course, an attentive adult should always be within arm's reach of children whenever they are near the pool!
No matter the time of year, all pool owners should be constantly vigilant about preventing child drownings. Is your pool area properly secured? Call DCS Pool Barriers today at 623-825-7700 or visit https://dcspoolbarriers.com/contact-us/ for a free estimate on our wrought iron pool fences and gates!