Wrought Iron Pool Barriers: The Best Investment in Pool Safety for Commercial Properties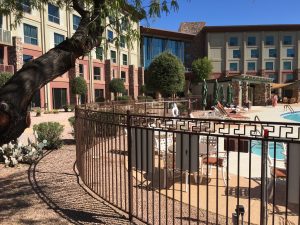 For businesses in any industry, improvements to the commercial property must be carefully considered in terms of their cost, benefits, and expected return on investment (ROI). However, businesses that have pools on their properties—such as hotels and apartment or condominium complexes—must balance cost considerations with the need to ensure pool safety and create a beautiful pool area for maximum guest or resident enjoyment. Wrought iron pool fences and gates are highly effective at improving pool safety, adding beauty to any pool area, and delivering a strong ROI, making wrought iron barriers an excellent investment for commercial properties with swimming pools. 
Considering installing a new pool barrier to secure your commercial property's pool? Here are a few reasons why wrought iron is the best material for your bottom line: 
Durability. Wrought iron is naturally stronger than alternative fencing materials, such as wood or aluminum. As a result, property owners can expect wrought iron pool barriers to remain in sound condition for many years without needing to be repaired or replaced. To further enhance durability, DCS Pool Barriers offers the option of galvanization—which refers to the process of sealing the wrought iron with a protective zinc coating—for all of our wrought iron products. Our galvanized wrought iron comes with a ten-year warranty against rust and other types of deterioration.

 

Reduced liability. Since commercial pools experience a higher volume of swimmers than residential pools, commercial property owners generally face heightened liability due to the risk of drowning. Therefore, it is essential to have effective safety measures in place. While there is never a substitute for constant adult supervision when it comes to water safety, proper pool barriers can help minimize risk by preventing children from wandering into the pool area unattended. Because wrought iron is so durable, it cannot be easily damaged, climbed, or otherwise breached—making wrought iron fences and gates a formidable barrier against unauthorized entry into the pool area.
Enhanced curb appeal. In addition to ensuring safety, commercial property owners must strive to create a beautiful environment that attracts guests and residents. With its timelessly elegant appearance, wrought iron is a stunning addition to properties of any type. Wrought iron pool fences and gates may easily be customized to suit various style preferences—ranging from sleek and simple to decorative and ornate. By helping to boost guest and resident satisfaction, wrought iron pool barriers will yield a positive ROI for hotel owners and the owners and managers of HOAs and apartment complexes.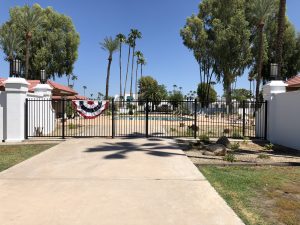 At DCS Pool Barriers, we frequently design, manufacture, and install beautiful and sturdy wrought iron pool barriers for commercial property owners throughout the greater Phoenix area. Our team will ensure that the finished product accentuates the style of your property, complies with all state and local regulations governing commercial pools, and will deliver value for years to come. Contact us today at 623-825-7700 to request a free estimate!