How to Create a Safe and Beautiful Pool Area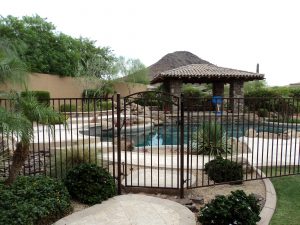 For many homeowners in Arizona, the pool area is more than just a place to cool off on a hot day. It serves as an extension of the home—a destination for socializing, relaxing, dining, and simply enjoying the beauty of the desert. Therefore, it is important to ensure that the space surrounding your pool is designed for maximum comfort, aesthetic appeal, and of course, safety.
Whether you are building a brand-new pool area or sprucing up your existing one, here are a few tips for making your space as safe and beautiful as possible:
Enclose the pool area with stylish and sturdy pool barriers.
Among the most noticeable features of any pool area are the fences and gates surrounding it. Therefore, choosing beautiful pool barriers is a good first step in enhancing the style of your pool area. At DCS Pool Barriers, we recommend wrought iron as a superior material for fences and gates. Wrought iron is widely admired for its timelessly elegant look, but as an added benefit, it can be customized to suit any style—ranging from simple and understated to sleek and contemporary to decorative and ornate. While they are eye-catching on their own, wrought iron pool barriers also allow nearly uninterrupted views of the surrounding scenery.
Whenever water is involved, safety must always be the primary consideration. In addition to their beauty, wrought iron pool barriers tend to be more durable than alternative materials. Due to its natural strength, wrought iron cannot be easily breached, broken, or climbed—which helps minimize the risk of drowning by reducing the likelihood that children will access the pool area without supervision. However, keep in mind that there is never a substitute for constant, responsible adult supervision when kids are near the pool!
Incorporate plenty of shade.
Although we are fortunate to enjoy comfortable weather for most of the year, any Arizonan knows that the desert sun can be intense and unrelenting—leading to heightened risks of sunburn and dehydration when spending time outdoors. As a result, it is crucial to add elements to your pool area that provide ample shade. For example, umbrellas, pergolas, and shade sails—which are large swaths of durable fabric that are typically rectangular in shape, like sails—provide protection from the sun, as well as a stylish flair.
The plants that surround your pool have a strong impact on the beauty, safety, and required maintenance level of the entire pool area. For maximum enjoyment, opt for plants that do not shed a lot of debris or require much water. Examples of gorgeous, low-litter plants include birds of paradise, desert lavender, and Mexican blue palms, while plants like desert marigolds and Arizona rosewoods tend to require minimal water. For safety purposes, ensure that cacti are situated far away from the pool and walkways to reduce the risk that their thorns will cause injuries or puncture pool toys.
When using the pool at night, proper lighting throughout the pool area—and particularly along walkways—is essential to staying safe. LED lighting offers an energy-efficient way to add a relaxing, modern vibe to the pool area while providing illumination. Strings of lights can also be draped along fences and pergolas for additional style and glow.
As you transform your pool area into a beautiful backyard oasis to be enjoyed year-round, consider wrought iron pool fences and gates as a way to enhance safety and style. At DCS Pool Barriers, we have been designing, manufacturing, and installing premium-quality wrought iron pool barriers for residential and commercial properties for over a decade. Upon installation, our experienced technicians will ensure that the finished product is functioning properly and matches the look of your property. Contact us today at 623-825-7700 for a free estimate!