5 Factors to Consider When Installing a Pool Fence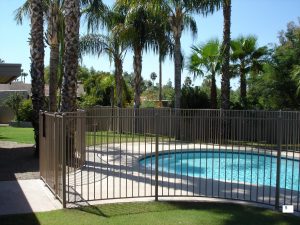 A swimming pool serves as the quintessential backyard oasis—a source of relaxation and recreation, as well as a gathering spot for friends and family. However, safety is the primary consideration when designing any pool area, and installing proper fencing is one of the most effective ways to ensure pool safety. Fortunately, the right pool fencing can provide a wide array of benefits, including safety, curb appeal, and a strong return on investment.
Here are five important factors to consider when choosing a pool fence:
Material. Fencing is available in a variety of materials—such as wrought iron, aluminum, wood, and mesh—and the type you select can have a significant impact on the appearance and security of your pool area. When choosing a material, consider how it will complement the style of your property, how effectively it will secure the pool area, your budget, and how long the material is likely to last without needing to be repaired or refinished.

 

Style. Available styles of pool fences can range from simple and utilitarian chain-link or wood fencing to decorative and eye-catching wrought iron fencing. Because the pool area is likely a focal point of your backyard, it is important to choose a fence that will enhance, rather than detract from, the look of your overall property. In addition, consider your home's unique style—is it contemporary? Traditional? Southwestern? You may be able to customize your pool fencing to match the style of your home.
Height. A pool fence must be high enough to effectively prevent children and pets from entering the pool area. In fact, Arizona law requires that homes with children under the age of six must secure their pools with fencing that is at least five feet high (as measured from the exterior side). This is a sound guideline for all residential and commercial properties to follow in order to improve pool safety and reduce liability.
Color and finishes. The paint color that you choose for your pool fence can have a direct impact on its aesthetic appeal, and may determine whether the fence itself is eye-catching, or whether it blends into the background and allows the surrounding scenery to take center stage. In addition, adding finishes to the fence could help to ensure its long-lasting durability. At DCS Pool Barriers, for example, we offer single-powder coating, double-powder coating, and galvanized powder coating for pool fences and our other wrought iron products. Powder coating ensures a smooth, even finish and reliable protection from the elements, while galvanization safeguards against rust—even when the wrought iron comes into contact with water. All galvanized wrought iron products from DCS Pool Barriers carry a ten-year warranty.

 

Cost. As with any other improvement to your property, pool fencing is a significant investment, so it's important to carefully consider how the overall cost (including labor and materials) fits with your budget. Other considerations that could impact your bottom line include the reputation of the fencing company you use (more established and well-respected companies will generally be more likely to provide a reliable product and resolve any issues that arise), as well as the quality of the fencing material. Fences that have a low upfront cost but are made from poor-quality materials are at risk of deteriorating and needing to be repaired or replaced within a short period of time. On the other hand, higher quality materials—such as wrought iron—are more likely to continue yielding value over the long-term.
At DCS Pool Barriers, we recommend wrought iron as a preferred material for pool fencing. Wrought iron is naturally strong and has a stylish appearance, and can be easily customized to suit the aesthetic of any property. Due to its durability, it provides a solid barrier against unauthorized entry into the pool area. With over a decade of experience designing, manufacturing, and installing wrought iron pool fences and gates for residential and commercial properties, DCS Pool Barriers ensures that each of our premium-quality wrought iron products promises maximum safety, beauty, and return on investment. 
Considering installing a new pool fence? Contact DCS Pool Barriers today at 623-825-7700 to request a free estimate!