Stay Compliant with Community Fencing Requirements with a Pool Fence from DCS Pool Barriers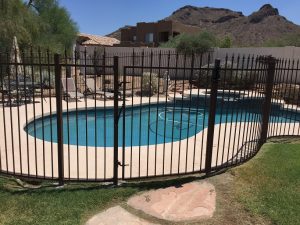 Phoenix is a rapidly growing city, with new housing communities constantly popping up throughout the greater metropolitan area. Upon moving into their beautiful, newly built homes, however, many homeowners find that the developers have not installed one crucial asset: barriers to enclose the pool area. Proper pool fences and gates are essential safeguards for keeping children and pets out of the pool area, where they may encounter the risk of drowning. In fact, Arizona law requires residential and commercial pools to be secured by barriers that meet certain requirements. In addition to state regulations, homeowners who live in HOA-governed communities may need to ensure that their pool barriers comply with community fencing requirements, which are designed to create a consistent style from house to house.
At DCS Pool Barriers, we have worked with customers in countless communities throughout the Valley, and our team has become very knowledgeable about the pool fencing requirements in different subdivisions. For example, DCS Pool Barriers frequently serves homeowners in the following communities: 
Trilogy at Vistancia in Peoria
Corte Bella in Sun City West
Sun City Festival in Buckeye
Victory at Verrado in Buckeye
Sun City Grand in Surprise
And many more!

 
When designing, manufacturing, and installing our custom wrought iron pool fences and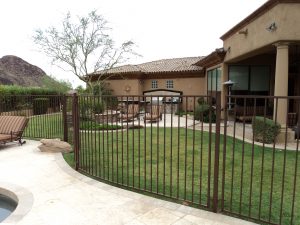 gates at any property, we carefully ensure that the finished product complies with state and local regulations, community guidelines, and the homeowner's individual needs and preferences. With a natural elegance, wrought iron offers the advantage of being highly malleable, which allows it to be customized to suit any style—ranging from simple and sleek to decorative and ornate. 
At the same time, wrought iron tends to be more durable than alternative fencing materials, which enhances pool safety by making the fences and gates nearly impervious to being climbed, broken, or breached. To further ensure quality, DCS Pool Barriers uses only premium-grade steel and the highest quality components in our fences and gates, and all of our wrought iron products carry the option of galvanization. Our galvanized wrought iron is sealed with a protective zinc coating and offers a ten-year warranty against rust and other types of deterioration. 
If you live in an HOA-regulated community and are in need of new pool fences or gates, the professionals at DCS Pool Barriers are here to help! We will verify your community pool fencing requirements, as well as any applicable ordinances in your city, and develop a premium-quality wrought iron pool barrier that reflects your unique style. Contact us today at 623-825-7700 to request a free estimate!