Improve the Look of Your Commercial Property with Beautiful Wrought Iron Pool Barriers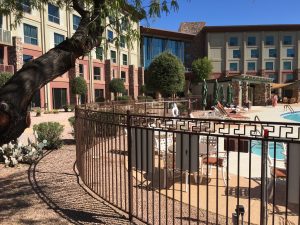 For many commercial properties—particularly hotels and apartment or condominium complexes—the property's aesthetic appeal can have a direct impact on revenue. While factors like safety and security also take top priority, commercial property owners must ensure that all features and new additions enhance the property's style. For commercial properties with pools, wrought iron pool fencing and gates offer a great way to boost curb appeal while also improving safety, thus creating a beautiful, secure environment for guests and residents. 
Wrought iron has been admired for centuries for its naturally elegant appearance in any context, from decorative wall hangings to interior or exterior railings to fencing or gates used to secure a property. Due to its malleability, wrought iron can be shaped to suit any style—making it an ideal match for a wide variety of commercial, residential, and even industrial properties. When used in pool fencing or gates, wrought iron adds a beautiful aesthetic to the pool area while allowing swimmers a nearly unobstructed view of the surrounding spaces. 
At DCS Pool Barriers, we take several steps to ensure that our wrought iron pool fences and gates offer maximum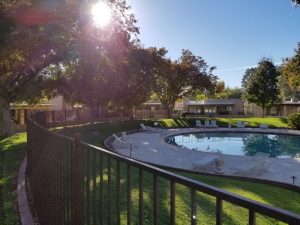 beauty for any property. For example, we begin by working closely with each client—including commercial property owners or managers, engineers, or maintenance managers—to determine their needs, limitations, and the style of the property. After deciding on a design for the new pool fencing and gates, we begin the manufacturing process using premium-grade steel that has been individually inspected by our fabricators to ensure that it meets our high quality standards. The steel is then cut to size based on the specifications of each order. When welding all of our wrought iron products, we use pre-fabricated jigs to maintain quality throughout. 
After the manufacturing process is complete, we offer two additional options to enhance the beauty of our wrought iron fences and gates: galvanization and powder coating. Galvanization is the process of sealing the wrought iron with a protective zinc coating in order to safeguard against rust and keep the fence or gate in prime condition for many years. All of our galvanized wrought iron products carry a ten-year warranty. Powder coating, on the other hand, involves the use of charged particles to apply a smooth, even finish to the wrought iron. Powder coated surfaces are highly durable and resistant to chipping, cracking, fading, or peeling—even when exposed to harsh conditions. Through custom options like galvanization and powder coating, wrought iron pool fences and gates from DCS Pool Barriers are sure to maintain a "like-new" appearance and continue to improve the style of any property for years to come. 
While we are proud of the beauty of our wrought iron products, we realize that safety is always the paramount consideration when it comes to pool fences and gates. In addition to its strong aesthetic appeal, wrought iron has a natural durability that makes it very difficult to breach or climb. Therefore, wrought iron pool fences and gates offer superior safety and security as compared to other materials, like wood or aluminum. The team at DCS Pool Barriers is well-versed in all state and local regulations governing pool barriers, and we will ensure that the finished product is up to code and properly installed for reliable safety. 
Is your commercial pool in need of a new look? Safe, durable, and beautiful wrought iron pool fencing or gates from DCS Pool Barriers may be the answer! Contact us today at 623-825-7700 to request a free estimate!