Recognizing Drowning Impact Awareness Month with the ABCs of Drowning Prevention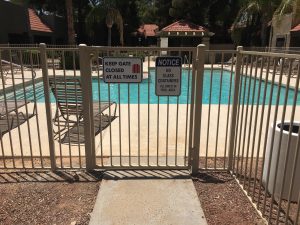 Every August, the Drowning Prevention Coalition of Arizona promotes Drowning Impact Awareness Month (DIAM) as part of its mission to prevent water-related accidents through educational initiatives, legislative action, heightened awareness, and enhanced product safety. Launched in 2004, DIAM is the largest collaborative water safety initiative in Arizona, drawing participation from business leaders, politicians, health and safety professionals, and concerned citizens. DIAM and all of the Drowning Prevention Coalition's other efforts bring attention to—and seek to change—the tragic fact that drowning is one of the leading causes of preventable death for children. Most drownings occur in a backyard pool and involve children between the ages of two and five. 
In recognition of DIAM, all pool owners, parents, or anyone else who supervises children around water should be aware of the "ABCs" of drowning prevention: 
"A" is for Adult
Whether at the beach or a backyard swimming pool, the most effective way to prevent drowning is to ensure that a sober, responsible adult is supervising children ceaselessly whenever they are around water. The adult should devote his or her full attention to the kids—which means no reading, texting, or working in the yard! Many people erroneously assume that children who are struggling in the water will be splashing around and calling for help. In reality, many drownings are completely silent and happen in mere moments. 
"B" is for Barriers
In addition to nonstop adult supervision, proper pool barriers are an essential way to keep children safe around the water. Arizona law requires pool fences to be at least five feet high and situated at least 20 inches from the water's edge, with no gaps large enough to allow an object four inches or more in diameter to pass. Pool gates must open outward from the pool, be self-closing, and have self-latching mechanisms located on the pool side of the gate and at least 54 inches above the ground. Cities and towns within the state may impose more restrictive regulations, so pool owners should consult an experienced company like DCS Pool Barriers to ensure that their pool fences and gates are up to code. 
When choosing barriers to secure your pool area, wrought iron offers a safer (and more cost-effective!) option than other materials. Wrought iron is naturally very durable, which helps it resist damage and deterioration that would allow it to be breached. Wrought iron fences are also difficult to climb, further ensuring that children will not enter the pool area unsupervised. As with any pool barrier, it is crucial that wrought iron pool fences and gates—particularly the self-closing and self-latching mechanisms—are maintained in proper condition for maximum safety. 
"C" is for Classes
The Drowning Prevention Coalition of Arizona urges swimmers and pool owners to take Coast Guard-approved classes, including swimming lessons and CPR classes. According to the American Association of Pediatrics, it is safe for babies as young as a year old to begin taking swimming lessons. Studies indicate that preschoolers who have taken lessons have a reduced risk of drowning. Additionally, parents and guardians should take CPR classes so that they know how to administer emergency care if a tragic water-related incident occurs. CPR could potentially save a life and prevent permanent brain damage by keeping oxygen flowing to a drowning victim's brain and heart. The Drowning Prevention Coalition has joined forces with Salt River Project and local fire departments to offer CPR classes. Click here to see the current schedule: https://sites.google.com/a/preventdrownings.org/drowning-prevention-coalition-of-arizona/home/prevention/learn-cpr/cpr-events
The Drowning Prevention Coalition also recommends that anyone—of any age—who is not a strong swimmer should wear a Coast Guard-approved life vest when near the water. "Floaties" are considered toys and are not effective safeguards against drowning! 
This August and year-round, DCS Pool Barriers strongly supports the Drowning Prevention Coalition of Arizona's important mission. With over a decade of experience, we are committed to helping residential and commercial property owners ensure that their pool fences and gates are legally compliant, maintained in good repair, and designed to help minimize the risk of water-related accidents. Our products are made from premium-grade wrought iron and are designed and manufactured at our Phoenix location to meet each customer's needs, goals, and style. Call us today at 623-825-7700 or contact us online to request a free estimate! 
(Sources: https://www.washingtonpost.com/national/health-science/at-what-age-should-a-child-learn-to-swim-very-early-may-not-be-best-experts-warn/2014/06/30/24490806-f649-11e3-a606-946fd632f9f1_story.html?noredirect=on&utm_term=.e6d3a13b60d5, https://sites.google.com/a/preventdrownings.org/drowning-prevention-coalition-of-arizona/home/prevention/pool-safety-tips).