6 Guidelines for Effective Pool Barriers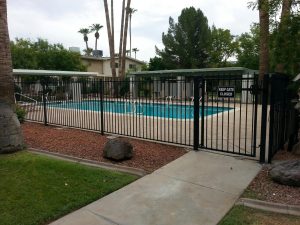 While constant adult supervision is the key to ensuring safety around the pool, adhering to certain standards for pool barriers can help prevent small children and pets from entering the pool area without an adult. The Consumer Product Safety Commission (CPSC) has established the following guidelines for pool fences and gates—and some of these guidelines have been codified in the laws of Arizona and other states. Are your pool barriers compliant with these guidelines from the CPSC?
Openings in the fences and gates should be small enough so that an object four inches or more in diameter could not pass through. This measurement is based on the estimated size of a young child's head and chest.

 

The bottom of the pool barrier should not be more than four inches above grade.
All pool areas must be secured by a gate for entry and exit.

 

Pool gates should include self-closing and self-latching mechanisms, as well as locking devices.
Gates should open outwards—away from the pool area—so that even if the gate is not completely latched, a child pushing on it will close the gate and possibly even engage the latch, thus preventing access to the pool area.

 

The release mechanism for the gate should be situated on the side closest to the pool, placed high enough (at least 54 inches above the ground) so that it will be out of the reach of young children. Keep in mind that kids could reach over the gate or through any openings in an attempt to access the pool area. Therefore, openings within 18 inches of the latch should be less than a half inch wide in order to keep little hands from sneaking through.

 
By following these simple pool barrier guidelines and providing nonstop supervision for children whenever they are around water, you can minimize the chance of tragic pool-related accidents. 
Do your pool fences and gates adhere to the CPSC's recommendations? DCS Pool Barriers has over a decade of experience designing, manufacturing, and installing pool barriers for residential and commercial properties throughout the Phoenix area. Our team is knowledgeable about the latest guidelines from the CPSC, as well as state and local laws regarding pool barriers. We recommend wrought iron to enclose pool areas, as its natural durability helps prevent it from being breached. In addition, wrought iron fences and gates have an elegant appearance that complements the style of any property. Call us today at 623-825-7700 or contact us online for a free estimate!