Drowning Statistics Highlight the Importance of Proper Pool Barriers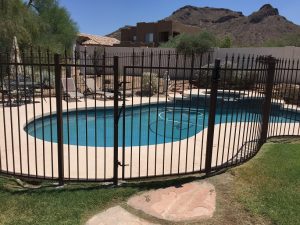 Given the year-round warm and sunny weather in Arizona, many homes and commercial properties have swimming pools. However, a tragic side effect of the state's plethora of pools is an above-average rate of drownings and other water-related accidents. Fortunately, many of these incidents are preventable—and properly installed pool barriers are one of the keys to minimizing risk. At DCS Pool Barriers, our number one priority is to help prevent tragedies by creating and installing high-quality pool fences and gates that comply with Arizona's stringent local pool barrier requirements and create a necessary layer of protection around the pool area.
The U.S. Consumer Product Safety Commission (CPSC) conducted an extensive study of swimming pool accidents, including both fatal drownings and life-threatening submersions, that occurred in Arizona, California, and Florida. Many of the CPSC's guidelines for pool safety products are based on this study. The following findings demonstrate why it is so crucial to take all possible precautions—such as installing pool barriers with self-closing and self-latching gates—to prevent unsupervised children from accessing the pool:
In the states studied, drowning was the leading cause of accidental death in and around the home for children under the age of five.
Each year, approximately 300 children under the age of five drown in swimming pools. The CPSC estimates that emergency room treatment is required for more than 3,200 children under five due to having been submerged in a residential pool.

 

75 percent of the children involved in swimming pool submersion or drowning accidents were between one and three years old.
Boys between one and three were the most likely victims of fatal drownings and near-fatal submersions in residential swimming pools.
Most of the victims were being supervised by one or both parents when the swimming pool accident occurred.
Nearly half of the child victims were last seen in the house before the accident. In addition, 23 percent of the victims were last seen on the porch or patio, or in the yard. This means that at least 69 percent of the children who became victims in swimming pool accidents were not expected to be in or at the pool, but yet were found drowned or submerged in the water.
65 percent of the accidents occurred in a pool owned by the victim's immediate family, and 33 percent occurred in pools owned by relatives or friends.

 

Fewer than two percent of the pool accidents were a result of children trespassing on property where they did not belong.

 

77 percent of the swimming pool accident victims had been missing for five minutes or less when they were found in the pool drowned or submerged. The speed with which drownings and submersions can occur is particularly alarming—by the time a child's absence is noted, he or she may have drowned. Anyone who has cared for a toddler knows how fast young children can move. They are inquisitive and impulsive and lack a realistic sense of danger. These behaviors, coupled with a child's ability to move quickly and unpredictably, make swimming pools particularly hazardous for households with young children.
Swimming pool drownings of young children have another particularly insidious feature: they are usually silent deaths. It is unlikely that splashing or screaming will occur to alert a parent or caregiver that a child is in trouble.
After reviewing an abundance of data on child behavior and drownings, as well as information on pool and pool barrier construction, the CPSC concluded that the best way to reduce child drownings in residential pools is to construct and maintain barriers that properly prevent children from gaining access to the pool. However, it is always important to remember that there is no substitute for diligent adult supervision whenever kids are near the water.
Is your residential or commercial pool area properly secured to reduce the risk of drowning? At DCS Pool Barriers, our team of professionals is knowledgeable about the pool barrier requirements for all cities in the Phoenix area. With over a decade of experience, we will design, manufacture, and install custom pool fences and gates that are up to code and designed to prevent unauthorized access to the pool area. Call us today at 623.825.7700 or click here to request a free estimate! 
(Sources: https://www.cpsc.gov/safety-education/neighborhood-safety-network/toolkits/drowning-prevention, https://www.cpsc.gov/content/new-cpsc-report-fatal-drownings-in-pools-involving-young-children-decreases-by-17-percent).