How Wrought Iron Pool Barriers Can Enhance Your Backyard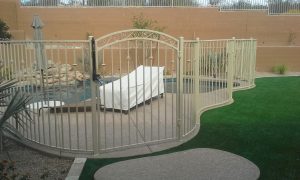 With comfortable weather throughout most of the year, residents of the Phoenix area tend to spend a great deal of time outdoors. Therefore, for many Arizona homeowners, the backyard is an integral part of the home—almost as important as the kitchen or living room. For those fortunate enough to have a swimming pool, the design, functionality, and of course, the safety of the backyard and pool area are crucial to the optimal enjoyment of the outdoor living spaces.
While the fencing and gates that enclose the pool area are often overlooked elements when designing a backyard, they can have a major impact on style and safety. Are you in need of these important barriers to secure your pool area, or are you wondering if your existing fences and gates need to be replaced? Here are a few reasons to consider wrought iron pool barriers as a way to enhance your backyard:
Improved safety for children (and pets!). When it comes to pools and spas, safety must always be the paramount consideration—particularly if children may be able to access the water. Arizona law acknowledges this by requiring residential pool areas to be entirely enclosed by fences and gates that meet certain criteria. For example, the fence must be at least five feet high and located a minimum of 20 inches from the water's edge, have no openings that would allow an object four inches or more in diameter to pass through, and have no handholds or footholds that would allow someone to climb the fence. Gates must open outward from the pool, be self-closing, and have a self-latching mechanism located at least 54 inches above the ground. (http://www.azdhs.gov/preparedness/epidemiology-disease-control/environmental-health/index.php#residential-pool-safety)
Wrought iron pool barriers are an excellent choice for complying with state law and preventing children and pets from entering the pool area without supervision. Wrought iron is sturdier than other materials, making it resistant to being damaged or climbed. For maximum safety, wrought iron barriers should be composed of high-quality steel, installed properly, and maintained in sound condition. However, it is always important to remember that pool safety is everyone's responsibility, and there is no substitute for nonstop adult supervision whenever kids are around water.
Greater aesthetic appeal. Is your property sleek and contemporary? Elegant and ornate? Simple and understated? Regardless of your preferred style, wrought iron pool barriers may be customized to suit it. With its timeless beauty, wrought iron is sure to elevate the appearance of any backyard. In addition, although wrought iron is a centerpiece in itself, the spacing between pickets on most wrought iron fences allows swimmers to enjoy clear views of the scenery surrounding the pool area.
Cost-effectiveness for the homeowner. Due to wrought iron's natural durability, it generally lasts for many years, even when exposed to Arizona's intense sun, blowing dust, and occasional heavy rains. At DCS Pool Barriers, we offer the option of galvanization—or the process of adding a zinc coating to the wrought iron in order to ward off rust—as an extra layer of protection for all of our wrought iron products. Galvanized wrought iron from DCS Pool Barriers carries a ten-year warranty, ensuring a strong return on investment for our customers. In addition, we handle every step in the production process, including design, manufacturing, and installation. This reduces our expenses since we do not have to outsource these steps, and we are happy to pass the savings onto our customers.
The team at DCS Pool Barriers has been creating custom wrought iron pool fences and gates for residential and commercial properties throughout the Phoenix area for over a decade. We are knowledgeable about state and local laws regulating pool barriers, and upon installation, we ensure that all components are functioning properly for maximum safety. Call us today at 623.825.7700 or contact us at https://dcspoolbarriers.com/contact-us/ to request a free estimate!