Three Ways Wrought Iron Pool Barriers Can Improve Your Bottom Line
From hotels to apartment complexes and HOAs, commercial property owners must always ensure that their pool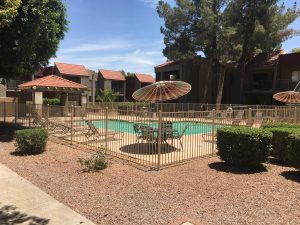 areas are safe, well-maintained, and aesthetically appealing. Due to the warm winters in the Phoenix area, these concerns remain prominent even as fall begins and peak swimming season comes to an end. At the same time, most businesses are constantly watchful of their bottom lines, so the cost and estimated return on investment of any improvements must be carefully considered.
Is your commercial property's pool area in need of new gates or fencing? Here are three ways that choosing wrought iron pool barriers can help to improve your bottom line:
Reduced liability. For any pool owner, safety must always be the primary consideration when designing or improving the pool area. However, since commercial pools tend to experience a higher volume of swimmers, reliable safety measures are even more important in order to prevent accidents and reduce the property owner's exposure to liability. Wrought iron is one of the safest choices for pool fences and gates because its natural durability makes it resistant to damage. In addition, it cannot be climbed easily, reducing the likelihood that children will be able to enter the pool area unsupervised. While it is still crucial for commercial property owners to take all necessary pool safety precautions and remind swimmers that there is never a substitute for constant adult supervision, wrought iron pool barriers can protect a company's bottom line by reducing liability.
Enhanced aesthetic appeal. Wrought iron has been admired for centuries due to its timelessly elegant appearance. It has a malleable quality that allows it to be shaped into various designs, making it an attractive addition to any style of property. When used as a pool fence, wrought iron enhances the appearance of the pool area without obscuring swimmers' views of the surrounding property. Due to its beauty, wrought iron can help to improve a commercial property owner's bottom line by contributing to the satisfaction of guests and tenants.
Better return on investment. Because wrought iron is so strong, it will last for a long time without needing to be repaired or replaced. Therefore, property owners who invest in wrought iron pool barriers can expect to save money over time. To further protect the owner's investment, DCS Pool Barriers offers the option of galvanization for all wrought iron products. Galvanization is the process of adding a zinc coating over the wrought iron in order to safeguard against rust. Galvanized products from DCS Pool Barriers carry a ten-year warranty.
As you consider how to improve your commercial property, keep in mind these three ways that a wrought iron pool barrier can boost your bottom line. The team at DCS Pool Barriers has extensive experience working with a variety of properties throughout the greater Phoenix area, including top hotels and residential communities. We will design, manufacture, and install wrought iron pool fences and gates to meet your property's unique style and needs. Call us today at 623-825-7700 to request a free estimate!