Galvanized Fencing Resolves a Rust Problem
Rancho Sierra Apartments is a scenic community in North Phoenix that was experiencing a common problem: rusted-out pool fencing. Not only was the rusty fencing compromising the property's curb appeal but it had become a safety issue for residents. With an entire community to maintain, the managers were seeking a long-term solution to their fencing troubles so that they would not have to worry about rust for many years. They consulted DCS Pool Barriers. Our team was able to offer them new fencing that will stay rust-free, durable, and aesthetically appealing for years to come.
New Pool Fencing at Rancho Sierra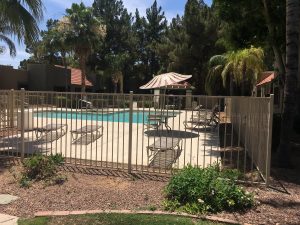 The professionals from DCS Pool Barriers determined that three of Rancho Sierra's pool fences needed to be replaced. Our wrought iron pool fencing is available in a variety of colors, and those that we installed at Rancho Sierra Apartments have a beige hue that seamlessly matches the surrounding buildings. The fencing also has an understated style that allows residents lounging by the pool to enjoy the beauty of the lush property.
Most importantly, the new pool fencing at Rancho Sierra Apartments is galvanized, which means that a protective zinc coating has been added to the wrought iron in order to safeguard against rust. All wrought iron products from DCS Pool Barriers have the option of galvanization, which carries a ten-year warranty. Because of this extra layer of protection, the managers at Rancho Sierra Apartments will not have to deal with rusted or deteriorating pool fences for several years.
As part of the pool fence, DCS Pool Barriers also installed gates, which are essential for controlling access to the pool area. When the DCS team installs gates within a pool fence, they use larger posts in order to accommodate the gates, as well as commercial-grade spring hinges. These high-quality hinges ensure that the gates close and latch properly, which enhances pool safety by preventing the gates from staying open and potentially allowing unauthorized access.
Why Wrought Iron Fencing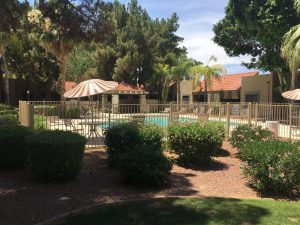 Wrought iron is always an excellent choice for pool fencing and gates. It is naturally strong compared to other materials, preventing unauthorized entry into the pool area. Because wrought iron cannot easily be climbed or damaged, it creates a formidable barrier to children, pets, and others who may try to access the pool area without supervision. This helps improve pool safety by reducing the risk of drowning. The texture of wrought iron also makes it customizable, so property owners can select their preferred style.
At DCS Pool Barriers, we use only premium-grade steel for all of our wrought iron products. Our fabricators carefully inspect the steel, which is then cut to size for each order. After designing and manufacturing custom pool fences and gates, our team installs them and ensures that all components are functioning properly. Contact us today at 623.825.7700 or online to request a free estimate!