May is National Water Safety Month – Swim Safe!
As the pleasantly warm days of spring melt into the heat of the summer months, people across the country – and particularly in the Phoenix area – are beginning to flock to swimming pools to enjoy some aquatic refreshment. In recognition of the arrival of pool season, May has been designated as National Water Safety Month.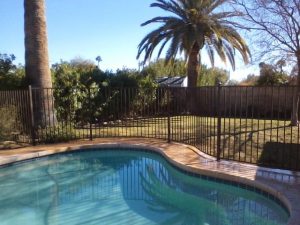 While swimming offers many benefits, including exercise, relaxation, and an opportunity to spend time with friends and family, pools and other water sources present the risk of drowning. In states like Arizona that experience plenty of warm weather, drowning is the primary cause of accidental death in children under the age of five. Nationwide, approximately 350 children under five drown in swimming pools each year, while thousands more visit the hospital due to water-related accidents.
National Water Safety Month is an awareness campaign that strives to prevent these tragic accidents. Sponsored by a concerned coalition of government entities, private companies, and associations – including the American Red Cross and the Association of Pool and Spa Professionals – the campaign encourages safe swimming through educational programs, public service announcements, distribution of informative water safety materials, and more.
Although it is a major public health concern, water safety begins with each individual. Here are a few important tips to keep in mind for National Water Safety Month this May and throughout the year:
Remember that ceaseless adult supervision is the most effective way to prevent accidents when children are near the pool. Drowning can happen alarmingly quickly, so not only should adults be present, but they must not be distracted. Ideally, adults should be within arm's reach of children so that they may intervene if a child begins to struggle in the water. Keep in mind that just a few minutes without oxygen can result in permanent brain damage or even death, so rapid intervention is key to preventing pool mishaps from turning into tragedies.
Begin teaching children how to swim at an early age. Although children should never be allowed near the pool without adult supervision, swimming lessons provide an additional layer of protection against the risk of drowning.
When spending time at the pool, have first-aid supplies and a phone handy to dial 911 in case of an emergency. Parents and other adults who frequently supervise children should consider becoming CPR certified.
Ensure that the pool area is secured by fences and gates that are maintained in sound operating condition and comply with local laws. In Arizona, state law requires residential pools to be secured by five foot-high fences and gates that are self-closing and self-latching. These barriers reduce the risk of drowning by helping to prevent any unauthorized entry into the pool area by children or pets. Property owners should also consider adding alarms to doors and windows that open to the pool area.
DCS Pool Barriers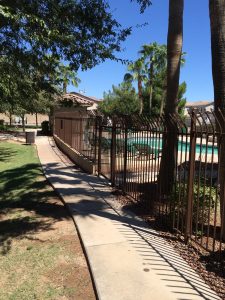 applauds the goals of National Water Safety Month and believes that safety must be a primary goal for pool owners, no matter the time of year. For over a decade, we have been helping residential and commercial property owners minimize the risk of pool area accidents by providing premium-quality wrought iron fences and gates. Our team of experienced professionals designs, manufactures, and installs pool barriers, ensuring that they function optimally and accentuate the style of the property.
Is your pool area ready for National Water Safety Month and a busy summer of swimming? Contact DCS Pool Barriers today at 623-825-7700 for a free estimate!